Discussion Starter
·
#1
·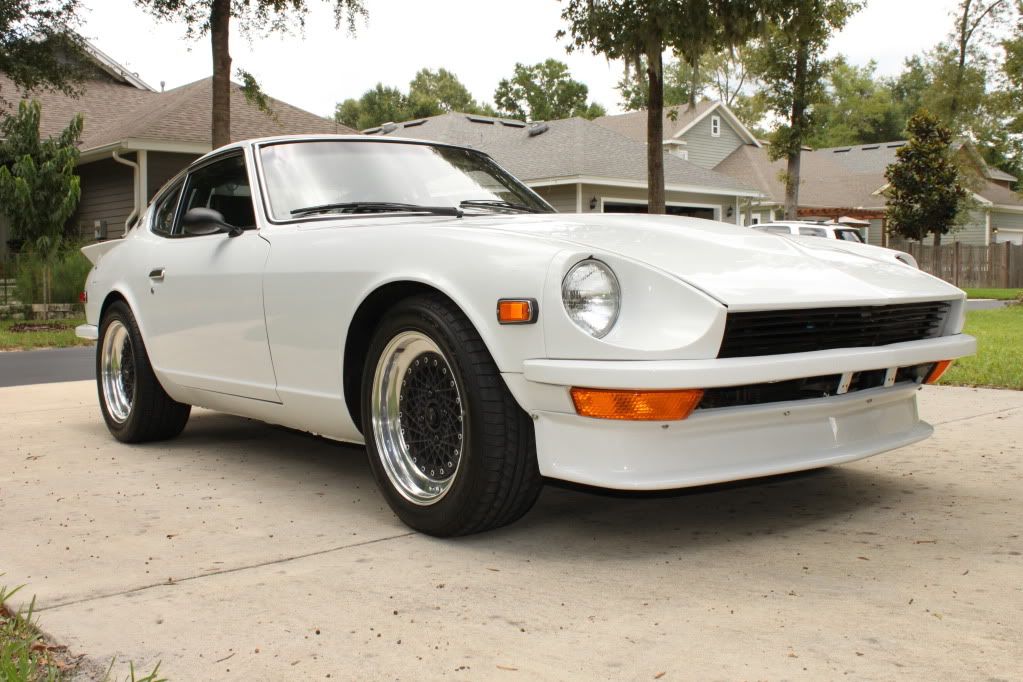 Engine:
3.0 L, N42 block
P 90 head
Racer Brown Cam
Forged pistons with full float rods
O-ringed head
Steel Nissan competition oil baffled oil pan
Oil cooler
Oversized 4 core aluminum radiator
Custom cold air cowl induction with K&N filter
Crank fired, Electromotive HPV-1 (with boost retard).
Holley mechanical double pumper
Turbo Tom's intake and exhaust manifolds
T3/T4 hybrid Turbo (Rebuilt 4 years ago)
Water injection (updated to an o-ring sealed pressure relief valve)
75 HP Wet Nitrous system (2 bottles)
Carter rotary fuel pump (new in 2010)
Turbonetics DeltaGate wastegate, adjustable from inside the car.
Output: Current tune; with 93 octane can run 12-15 lbs of boost for 20 min track sessions ~325-350 hp, with-out NOS.
Output: With 100+ octane can run 20 lbs of boost and put >400 hp at the wheels, with-out the NOS.
Drivetrain:
Spec Clutch
Tilton flywheel
5 speed
Open – R200, 3.54
Suspension:
All suspension is Zinc plated
Carrera coil-overs
Large Nissan completion sway parts, fully adjustable front and rear.
Camber plates
Steering linkage converted to spherical bearings
Rare 3-piece, 16" Epsilon wheels. Front 205-55-16, Rear 225-50-16
Weight Balance (full of fuel w/o driver) LF 642, RF 643, LR 624, RR652: Total 2561
Brakes:
Front: Lockheed AP 4 piston calipers on approximately 11 inch vented rotors
Rear: Girlock calipers on 10 inch rotors
Front and Rear have track compound pads
Body:
Good paint
Welded Frame seams
Kamai air dam
Molded in Rear spoiler
Straight body/chassis/frame rails
Passenger floor boards has very minor rust, see pictures in linked album
Interior:
Porsche 914 seats
Welded Roll bar with brackets for bolt in side bars and removable petty bar. The removable bars had been lost when I purchased the car, but the 1.5" diameter DOM tubing necessary to complete the bars can be provide with the car.
Emerson Fittipaldi steering wheel.
Stock gauge cluster, with the clock removed and replaced with a EGT & Boost combo gage.
Center console contains: Boost adjusting knob, NOS arming key, full throttle/NOS switch indicator light and alternator light.
Battery relocated to spare tire location.
NOS bottle mounted in spare tire location.
Custom carpet with faux spare tire cover to hide battery and NOS bottle.
Functioning A/C (blows cool but needs to charged with freon) and Heater
Stereo and speakers have been removed, but will go with the car.
History of the car:
This Z was built by Tom Wyatt III (aka Turbo Tom) for the previous owner who is an avid sportscar collector and racer. The project began after the previous owner traded his way in to a Daytona SCCA race in Jim Fitzgerald's Z. He won the race and received Datsun factory parts in return. On the way home from the race, he purchased this car and shipped it to Tom's shop in Atlanta to be converted into a street sleeper and track car. The car was built specifically to run for fastest time of the day honors at the Mitty (Road Atlanta), with the project beginning around 1980 and finishing around 1984. The car did take fastest time of the day and remains unchanged since the mid-80's and is very nostalgic.
The car is very reliable and has been driven on 250 mile road trips and has also run in many track events over the years. Anyone who knows Tom's work knows he was way ahead of his time and how quick and tractable his cars are. I have owned this car since 2007 and the previous owner had kept it in his collection since he had Tom build it in the early 80's. It has a clear Florida title. Please contact me with any questions or if you would like to discuss anything in more detail.
Link to album:
http://s764.photobucket.com/albums/xx289/gt72datsun/71 Turbo Toms 240z/